Manley Rods Manley Connecting Rods

Manley Performance produces many different types of connecting rods for the automotive aftermarket. Manley rods are manufactured to cover a large variety of high performance and racing engine applications. These include H beam rods and I beam rods, in stock lengths, and also many popular specialty lengths. In addition, Manley rods are available for many engines with stock rod journal and wrist pin sizes, as well as unique journal and pin sizes.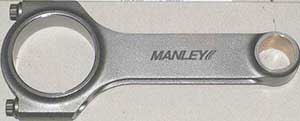 The wide range of specialty rods improves the performance of your engine by allowing you to select the best connecting rod, for your exact application. Manley rods are available to fit most any budget. Whether you need a basic high performance rod, such as the Sportsmaster series, or an all out Professional racing series rod such as the Manley Pro Series, we can provide the Manley rod set you need.
We are proud to be a Manley Connecting Rods dealer and we offer you the entire line of premium quality Manley rods. We are happy to provide tech help if you need assistance. We provide great discount prices along with fast shipping to anywhere in the world. We want to be your first choice for high performance and racing aftermarket parts.
Manley Connecting Rod Series
Manley rods are available in the following different series to cover most any performance or racing engine connecting rod application.
Manley Sportsmaster I Beam Rods
The perfect rod for stock replacement, mild performance applications, particularly where class rules require a stock appearing rod. Aircraft quality 4340 alloy forgings, machined cap and outer beam and ARP cap screws make this Manley rod an ideal choice for many budget conscious racers. these rods are lightweight and affordable.
Manley H Beam Series
H Beam rods available with ARP8740 bolts or with ARP 2000 bolt upgrades
H-LITES - Lightweight H-Beam rod versions with 3/8 inch ARP 2000 bolts
H-PLUS Series for High Output and Racing Sport Compact Engines - with ARP 625+ cap screws
Do not be fooled, not all H-Beam rods are created equal. Manley H-Beam connecting rods are not only very economically priced, but they are finished to the same exacting tolerances and high quality standards as our Sportsmaster® and Pro Series connecting rods. Final hone size, thread detail, bend and twist - these are attributes that Manley takes very seriously.
Manley Pro Series I Beam Rods
Dirt Series 300M Alloy I Beams
Turbo Tuff Sport Compact I Beams
NHRA Legal Stock and Super Stock Rods
TOUR LITES®
The Manley Pro Series I-BEAM rod has become the benchmark for fully machined billet style high end connecting rods in the performance industry. Lightweight and standard weight designs targeting specific markets combined with our finely tuned manufacturing process renders a truly outstanding product. Whether it be our 300M alloy DIRT SERIES rod in a 900 HP DLM engine, 4340 material lightweight design in a twin turbo Chevy LS or our TURBO TUFF design in a 1000+ HP Mitsubishi EVO, Manley makes the right connecting rod for your project.
Manley Rods Catalog Index
Small Block Chevy
SBC H Beam Rods
SBC Sportsmaster Rods
SBC NHRA legal connecting rods Pro Series I Beam
SBC Tour Lite I Beam
SBC Pro Series I Beam Standard and light weight
SBC Dirt Series 300M Alloy rods
Big Block Chevy
BBC H Beam and I Beam Rods
GM Duramax
Mopar 4 Cylinder
Neon SOHC DOHC 2.0L and SRT4 2.4L H Beam and Turbo Tuff I Beam
Small Block Mopar
SBM 318 340 360 5.2 5.9 Sportsmaster, Pro Series and NHRA Legal I Beam rods
Mopar 5.7 6.1 Hemi
Chrysler Dodge Late model 5.7 and 6.1 Hemi H Beam and Lightweight Pro Series I Beam
Mopar 426 Hemi
426 Hemi H Beam and Pro Series I Beam
Ford 2.3
2.3L Sportsmaster Esslinger Type Rods
Ford 4.0 XR6 Turbo
XR6 Turbo 4.0L H beam and Turbo Tuff I beam rods
Ford 351W
351 W CASCAR Pro Series I Beam
Ford 429 460
429 460 Pro Series I Beam
Ford 4.6 Modular
4.6L MOD H Beam and Pro Series Lightweight I Beam Rods
Ford 5.4 Modular
5.4L MOD H Beam and Pro Series Lightweight I Beam
Ford 5.0 Coyote
5.0L DOHC Coyote H Beam and Pro Series Lightweight I Beam
Ford 6.2 SOHC Raptor
6.2 SOHC Raptor H Beam and Pro Series I Beam Lightweight
Ford Powerstroke
7.3 Powerstroke Pro Series I Beam
Acura
RSX 2.0 K20, Integra LS 1.8, Integra GSR 1.8, K20 B18A B18B B18C D16 H beam and Pro I Beam
Audi
1.8L Turbo H Beam and H Plus
Honda
1.6 VTec CRV 2.4, Prelude 2.2, B16A D16 K24 H22 H Beam and Turbo Tuff I Beam
Hyundai
Genesis Coupe 2.0 Turbo Theta Turbo Tuff Pro Series I Beam
Mazda
Miata B6 BP 1.6L 1.8L H Beam
Mitsubishi
Eagle Talon 420A 2.0 SOHC and DOHC, Eclipse GS GST GSX Talon TSI 2.0 4G63 4G63T EVO EVO X 4B11T H Beam, Turbo Tuff I Beam and stroker rods
Nissan
KA24DE SR20DE SR20DET 240SX 300ZX RB25DE RB25DET RB26DETT RB30E RB30 RB30T VQ35DE VQ35DET Altima Maxima 350Z GT-R VR38DETT H Beam and Turbo Tuff I Beam Connecting Rods
Subaru
WRX EJ205 STi EJ257 H Beam and I Beam Turbo Tuff
Toyota
Celica MR2 3SGTE Scion 2AZFE Supra 2JZG H Beam and Turbo Tuff I Beam Rods
Volkswagen
1.8 Turbo VR6 2.8 H beam and I Beam Turbo Tuff
NOTE: You may notice that Manley provides an estimated horsepower rating for each different series and application of Manley connecting rods. However, it is very important to understand that these ratings are somewhat subjective. The critical factors that significantly influence the fatigue life of connecting rods (and the horsepower rating) are RPM, stroke and piston weight. In certain cases the horsepower ratings may be on the conservative side.
Back to Top Manley Rods Page