K1 Technologies Connecting Rods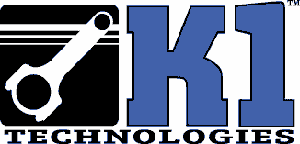 K1 Rods are a product of K1 Technologies. K1 manufacturers premium quality high performance and auto racing engine rotating assembly parts. Their primary focus is performance connecting rods and crankshafts. All K1 rods are designed for superior function, strength and long service life. H beam rods are all billet type rods built from 4340 grade steel. The H-beam connecting rods come with ARP2000 bolts. Unlike some lower grade hardware, ARP 2000 grade fasteners can be reused when the engine is rebuilt if no damage has been sustained. Lower grade bolts must be replaced at each engine rebuild. The H beam con rods are bronze bushed for use with full floating wrist pins unless noted differently. K1 also produces a number of I beam rod sets. The I beam rods are forged from 4340 grade steel and come with ARP8740 or ARP2000 hardware. The I beam models are available in both press fit pin and bronze bushed types for use in floating pin pistons.
K1 Rods Forged I-Beam and H Beam K1 Connecting Rods
Buy the Best connecting rods that K1 Technologies makes from us and get great discount pricing along with fast shipping and technical assistance if you need help. We sell the entire line of K1 products which includes rods for many popular engine combinations, as well as limited application connecting rods with atypical dimensions for center to center lengths, rod journals and wrist pin bore diameters. We also have a wide selection of stroker rods made specifically for use with most popular stroker cranks.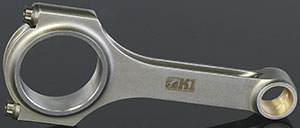 K1 Technologies prime focus is in providing excellent "energy transfer technology" at prices that make their products affordable for a wide range of projects. K1 Technologies is now part of the Wiseco Performance products group.
K1 Connecting Rods Catalog
Click on a chapter subsection to view those performance parts.
AMC American Motors Corporation
BMW
BMW M52B28 (S52B32) / M54B30 (S52B30)
Buick
Chevrolet 4 Cylinder
Chevrolet 6 Cylinder
Chevrolet LS1 LS2 LS6 LS7 LQ9 LSX V8
LS1 and all LS Series Engine
Chevy Small Block V8 SBC 283 302 305 327 350 383 400
SBC Connecting Rods:
Chevy 302
I Beam Press and Floating Pin Sets
H Beam
Lightweight H Beam
Small journal 2.000
Ultra lightweight for Honda rod journal size
Chevy Big Block V8 396 402 427 454 502
BBC Rods
BBC H Beam Standard Length and Long and Stroker
BBC I Beam Rods
Chrysler Dodge Mopar 4 Cylinder
Chrysler Dodge Plymouth Mopar 6 Cylinder
Chrysler Dodge Mopar Plymouth Small Block
Chrysler Dodge Mopar Modern 5.7 and 6.1 Hemi
Chrysler Dodge Plymouth Mopar Wedge 361 383 400 413 426W 440 V8
Chrysler 354 Hemi
Chrysler 392 Hemi
Chrysler Dodge Plymouth Mopar 426 Hemi
Dodge Viper 488 V10
Ford and Mercury 4 Cylinder
Ford 6 Cylinder
Ford 4.6L and 5.4L MOD Modular V8
Ford and Mercury Small Block V8
Ford and Mercury Big Block V8
Harley Davidson Motorcycle
Honda Automotive
B16A
B18A / B18B
B18C
D17
H22
K20 / K20 Turbo Rods
Honda FIT
S2000 / K24 Conversion
K24 Turbo
Hyundai
Mazda
Mitsubishi
Nissan
KA24 and SR20
RB25 , VQ-35 , VQ-37 VHR
Peugeot
Subaru
Suzuki Automotive
Toyota
Scion tC Rav 4 Scion xB Camry 2AZFE; and 3TC
2JZGTE
Vauxhall
Volkswagen
K1 Rods Installation Info and Bolt Stretch Specifications
Back to Top K1 Rods Page