Eagle Rods by Eagle Specialty Products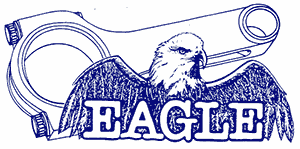 Eagle rods are high quality connecting rods designed for high performance and racing use. Eagle specialty products manufacturers a large variety of different rod types for many different engine applications. This has made them the best known aftermarket conrod manufacturer. Eagle performance is committed to providing top quality rods at an affordable price. Eagle is constantly expanding their connecting rod product line to cover a wider range of engine models. Eagle conrods are available in standard lengths, as well as many popular longer than stock sizes to provide improved performance and for use in stroker engines.
Why choose Eagle Rods?
Eagle begins the process of manufacturing top quality rods by using only premium certified steel in the production of their connecting rods. There are no shortcuts taken which might compromise the quality of the finished products. To insure a dependable finished product multi-stage heat treating, sonic testing, magna-fluxing, and x-ray inspections are performed.
Eagle H beam rods and Eagle I beam rods are available in many different versions to cover a wide range of budgets and engine uses. In addition to their standard rod offerings, they also produce lightweight rods and special max stroke H beam connecting rods which are specifically designed to provide the most clearance possible when using long stroke crankshafts.
Eagle Rods have stood the test of time and have proven to be a good value in the performance engine parts market. Eagle connecting rods are used in engines powering everything from restored muscle cars, hot rods, pro street cars, drifting competition cars to drag race, oval track and road racing vehicles. All Eagle rod sets include ARP fasteners, installation instructions, rod torque specs and bolt lubricant. They are equipped with silicon bronze bushings for use with full floating piston pins.
Eagle H Beam Rods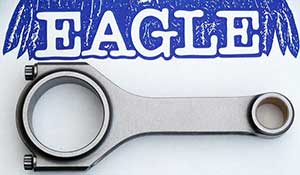 Eagle H beam rods are 4340 forged steel rods which include ARP8740, ARP2000 or ARP L19 hardware. They feature the use of alignment sleeves to provide precise rod cap location which improves reliability. Con rod sets are packaged from select rods which are weight matched to + / - 1 gram. Finish honing is done by using the Sunnen Krossgrinding system to provide an accurately sized housing bore.
Eagle I Beam Rods
Eagle I beam rod sets provide an economical alternative for those projects that are on a tight budget. The Eagle performance I beam connecting rod makes a great replacement for stock OEM rods. In many cases, you can purchase a brand new set of I beam Eagle rods, which include ARP bolts, for not much more than what it would cost you to rebuild a set of stock rods. Why invest your hard earned money in tired stock rods, when you can upgrade to Eagle for just a bit more?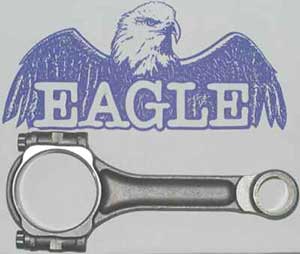 High Performance Eagle Connecting Rods The Quality Difference Beyond What You See
The ESP line of automotive Eagle connecting rods are built using a two piece forging. Superior strength is inherent due to the fact that forging forces the grain structure of the material into the rough shape of a connecting rod.
Forging the rod cap as a separate part allows the cap to be made so that the grain is oriented perpendicular to the major loads that the cap encounters, thus adding additional strength to the rod assembly.
There are many different performance aftermarket rods available which are advertised as being made from 4340 grade steel. The 4340 material specification allows some latitude in the exact materials included to achieve the desired properties of the raw steel forging. All Eagle ESP 3-D rods are manufactured from 4340 material which uses higher nickel and chrome content. While more expensive, this provides even greater strength and fatigue life while avoiding making the rod too brittle. Eagle has concluded through exhausting testing and analysis that their two piece forging is superior to any single piece forging aftermarket rod.
Entire Eagle Rods Performance Product Line Available Here
We are a full line dealer for all of the Eagle rods available from Eagle Specialty Products. We offer great discount pricing, friendly tech assistance if you need help and quick shipping. If Eagle makes it, we sell it and we want to be your high performance Eagle rods dealer of choice.
We are constantly adding more Eagle Specialty Products into our shopping cart database. If you do not see the performance Eagle rods with the specifications you need, please contact us. We will be happy to help you get exactly the connecting rods required for your engine project.
High Performance Eagle Rods Catalog Index
Back to top Eagle Rods