Carrillo Rods
The name Carrillo is synonymous with top of the line racing connecting rods. Carrillo rods equipped engines have won more races around there world, in virtually every type of motorsports than any connecting rod manufacturer. Carrillo makes industry leading rods for applications as varied as dirt bikes and atvs, to professional racing series engines used in drag racing, oval track, road racing, off road and many more. If you need the ultimate strength and performance available from a professional competition level connecting rod, Carrillo has the products you need.
Carrillo focuses on providing industry-leading products and performance while maintaining the highest level of customer service. CP Carrillo products are proudly made in USA.
We are an authorized dealer for the entire CP Carrillo product line of pistons and connecting rods. For more in depth information on Carrillo connecting rod features, manufacturing and history, please visit this page on our site>>> Carrillo Connecting Rod Technology and Features
Standard Shelf Stocking Carrillo Connecting Rods

Features

Set balanced to + or – 1 gram
Most available in A, SA or H- Beam Style
Taper or Straight blade
Available with CARR or WMC fasteners
Laser Edged
100% Magnaflux inspected
Fully Machined
USA Made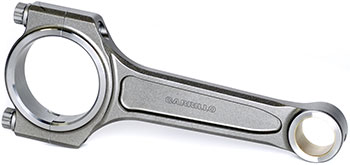 We have Carrillo connecting rods available for a huge variety of engines. Below you will find the main directory to help you find the rods for your engine. We are adding these to our website shopping cart system as quickly as possible. Please do not hesitate to contact us for information on any of the Carrillo products.
Carrillo Rods Catalog Index
Automotive Engine Rods
BMW
Chevrolet
Chrysler - Dodge - Mopar - Plymouth
Ford - Mercury
Porsche
Diesel Engine Rods
Chrysler - Dodge
Dodge - Cummins
Ford Powerstroke
GM Duramax
Mitsubishi
Volkswagen - Audi - Skoda - Seat
American Sport Compact
Ford
Chrysler - Dodge
GM
European Sport Compact
Citroen
Lancia - Fiat
Lotus
Opel
Peugeot
Saab 9-2
Volkswagen - Audi - Skoda - Seat
Volvo
Japanese Sport Compact
Honda - Acura
Mazda
Mitsubishi
Nissan - Infiniti - Datsun
Subaru
Toyota - Lexus
Classic European Automotive Engine Conrods
Alfa Romeo
Cosworth - Ford - Lotus
Ferrari
Jaguar
MG
Spridget
Triumph
Powersports Engine Rods
ATV
Dirt Bikes
Motorcycles - Street Bikes
Side x Side
Snowmobile
Watercraft
Speedway